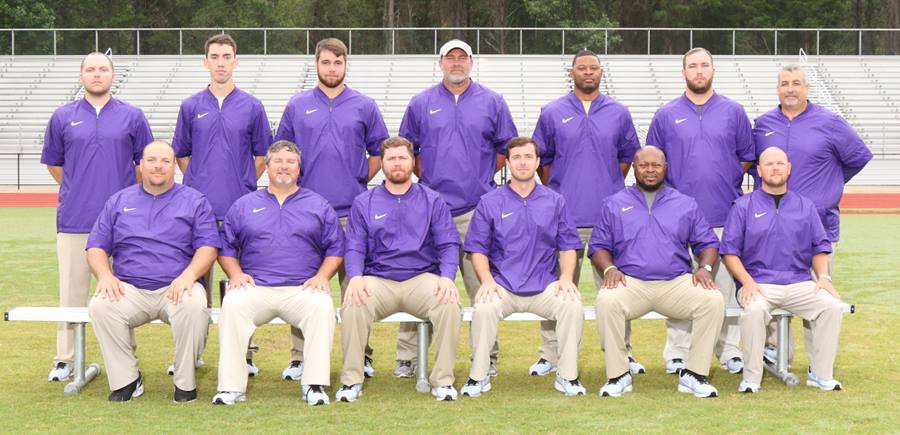 Scott Mansell

Head Coach/Athletic Director

As the 2017 season begins, Coach Mansell begins his 23rd year of coaching. After serving as Defensive Coordinator for 17 years, he is now in his fourth season as Head Coach. Coach Mansell played at the collegiate level at Mississippi State and Samford University. Past coaching stops include Walker, Cullman, Sparkman and Bob Jones.

Coach Mansell's son, Austin (22) is currently enrolled at West Governors University working on his special education degree and serves on the HHS Coaching Staff. Ashlee (17) attends Jasper City High School and is a member of the color guard.
Jeff Harris

Offensive Coordinator

Coach Harris begins his fifth year with Hueytown High School. He will serve as the Offensive Coordinator and also work with all offensive skill positions. He began his career as a Student Assistant Coach at Homewood High School where he learned under two Alabama Sports Hall of Fame inductees, Gerald Gann and Bob Newton. During this span, Homewood won four regional championships and had one appearance in the 1990 State Championship game. In 1994, Coach Harris began his teaching and coaching career in the Hoover City School System after graduating from UAB with a degree in Physical Education. He served as the Head Football Coach and Athletic Director at Berry Middle School and finished with winning multiple championships and a winning record greater than 70% over a nine year period. Coach Harris also assisted with Running Backs at Hoover High School for four years and experienced four consecutive trips to the State Championship game and learned the daily operations of an elite football program.

In 2003, Coach Harris became the Receivers Coach and Special Teams Co-Coordinator at Mountain Brook High School where the Spartans led the state in several offensive categories during his time there. He was selected to coach in the Alabama vs. Mississippi AllStar Class in 2006. Harris left Mountain Brook in 2009 to become the Head Football Coach and Associate Athletic Director at Oak Mountain High School. Coach Harris and his wife Kristie have been married for 17 years and have a daughter, Maci, and a son, Judson.
Drew Barnett

Defense

Coach Barnett is in his tenth year of coaching football, and his second stop at Hueytown. Before returning to Hueytown, he served as Head Football Coach at Southeastern High School. Prior to Southeastern, he served as Defensive Coordinator at Locust Fork High School as well as Linebackers coach at Hueytown High.

Coach Barnett received his Bachelor's degree from Athens State in Social Science and his Master's degree in Sports Management from the University of Alabama.

Coach Barnett is married to Kayla Barnett and they have one son, Weston.
Kyle Butler

Secondary

Coach Kyle Butler is entering his fifth year coaching. This will be his second year at Hueytown High School as secondary coach. Coach Butler has previously coached at Oak Mountain High School and Walker High School.

Originally from West Lafayette, Indiana, Coach Butler played football and baseball in high school. He earned All-Conference honors in both sports and played in the North/South All-Star Football Game where he won the Ralph Everman award. His biggest accomplishment as a player was being selected a team captain in both sports his senior year. Coach Butler then attended the University of Alabama and graduated in 2013 with a double major in Secondary Education: Social Sciences and History. He is currently working on a master's degree in Instructional Leadership.

Coach Butler has been married to Faith (Whigham) Butler for three years.
Trent Campbell

Defensive Coordinator

Coach Campbell is in his sixth year coaching defense at Hueytown, and his first year as the defensive coordinator. Before coming to Hueytown, he spent two years coaching defensive backs at Minor High School and prior to that, he spent three years on the defensive staff at UAB.

Coach Campbell and his wife, Valerie, are the proud parents of Ivey (3) and Knox, who was born earlier this year.
Manley Carpenter

Quarterbacks

Manley Carpenter is from Athens, Alabama. He graduated from East Limestone High School in 2010 before attending Jacksonville State University. At JSU, he majored in Secondary Education- General Science and graduated in 2015.
Joshua Franklin

Wide Receivers

Coach Franklin will be coaching the wide receivers for the 2017 football season. He graduated from Oak Grove High School in 2008, where he was a three-sport athlete. Franklin later attended Shelton State and the University of Alabama graduating with a Bachelor's in Secondary Education: Social Studies. He later received his Master's in Athletic Administration from Concordia University of Irvine.

Franklin began his coaching career at Bryant High School in Tuscaloosa, Alabama working with defensive backs and wide receivers. In 2013, he was hired at Minor to coach varsity running backs. This will be Coach Franklin's second season at Hueytown and his seventh year in coaching.

Coach Franklin and his wife, Erica, have one son, Jax, and are expecting another child in February.
Jerad Holder

Running Backs

Coach Holder is in his fifth year of coaching. He attended Sumiton Christian High School from 2006-2008. He began his coaching career as a volunteer coach at Pleasant Grove where he coached receivers and defensive backs. In 2013 Coach Holder served as Defensive Coordinator at Southeastern High School.

He holds a B.A in History from the University of Alabama at Birmingham. He is currently working towards a Master's degree in Education.
Walter Cunningham

Inside Linebackers

Coach Walter Cunningham was born in Bessemer, Alabama. He is the son of Freddie and Ida Cunningham. He graduated from Jess Lanier High School in 1996. Coach Cunningham played football from 1992-96 under Coach Carrol Cox. After graduating high school, he joined the United States Army and served for 6 years.

After returning from the military, Coach Cunningham earned his BS degree from Virginia College in Birmingham, Alabama. He then began to work and coach in the Bessemer School system from 2007-2012. During 2013-2014 Coach Cunningham coached at Helena Middle School where he coached Defensive Backs. They went on to have an undefeated season. From there, Coach Cunningham coached at Rudd Middle school and Pinson Valley High School. He served as Defensive Coordinator at Rudd, and worked with the Nickle Backs and Outside Linebackers at Pinson. Coach Cunningham was a volunteer coach last year at Hueytown High school. This season he will be the coaching Inside Linebackers alongside Coach Gregory Patterson.

Coach Cunningham is married to wife Tara Cunningham. Together they have four children, Veronica, Dorian, and the twins Addyson and Avery.
Greg Patterson

Inside Linebackers

Coach Patterson is in his 19th year of coaching. This is his second year at Hueytown High School. He spent two years at Walker HS where he coached defensive line, one year at Minor High School as the offensive line coach and from 1998 to 2012, Coach Patterson held several positions on the coaching staff at Sumiton Christian High School which included being the Head Football coach and AD for four years. Coach Patterson is a graduate of Hayden High School where he was a four year lettermen playing on both the offensive and defensive lines. After high school he spent 20 years in private business before completing his Bachelor's Degree in Liberal Studies/Social Science at Athens State University. He then continued his education and earned his Master's Degree in Athletic Administration from Concordia University-Irvine.

Coach Patterson and his wife Belinda have four children. His two oldest sons served four years each in the United States Marine Corps and are both married. His third son graduated from Corner HS and attends Bevill State Community College. His daughter will be a junior this year at Corner HS. When Coach Patterson has time away from football he enjoys spending it with his wife and 3 granddaughters, as well as fishing on the lake.
Corey Wells

Secondary

Coach Wells is in his second year of coaching at Hueytown High School. He will be coaching the cornerbacks. He graduated from Meridian High School where he was a two-sport athlete for the Wildcats, lettering in basketball. After high school, Coach Wells attended Meridian Community College where he received his A.S. in Computer Networking. He is currently attending UAB in the effort to obtain his B.S in Physical Education.

Coach Wells is married to Melessia Wells and they have 3 daughters, Lailah, Zariah and Mariyah.
Scott Glenn

Offensive Line

Scott Glenn is a 1996 graduate of Enterprise High School where he played football under Coach Bill Bacon. After high school, he attended the University of North Alabama where he played football for Coach Bobby Wallace and Coach Bill Hyde. He played there from 1997 - 2000. Glenn earned his Bachelor's Degree from the University of North Alabama. He spent 12 years teaching Physical Education and served as the Head Football Coach of Headland High School. This is Coach Glenn's first year at Hueytown High School where he will be teaching Physical Education and coaching Offensive Line.

Coach Glenn has been married to his wife, Susan, for ten years. They have two children: Kolby (7) and Kensley (4 months).
William Eads

Offensive Line

This is Coach Eads first year at Hueytown High School and his first year of coaching. He will be working with the Offensive Line. Coach Eads was a four year starter at Middle Tennessee State University. He was named to the 2016 Conference USA All-Conference Team.

Coach Eads is married to Courtney Eads.
Connor Young

Offense

Coach Connor Young graduated from Carbon Hill High School in 2011. He then went on to Birmingham-Southern College where he played football for four years and received a degree in mathematics.

Coach Young is in his second year of teaching and coaching at Hueytown High School.
Jason Ford

Defensive Line

Coach Ford is beginning his 15th year of coaching. Before coming to Hueytown, he spent time in Pleasant Grove, Helena and Oak Grove. Coach Ford will be helping with the Defensive Line.

He is married to Nikki Ford; they have one daughter, Mackenzie.